"HEAD-FIRST DIVING ONLY" – GANNET

The Gannet sea birds were the inspiration for the design studio`s name and logo.
These crazy birds dive from up to 100m head-first and plunge like an arrow into the water to go fish diving.
Inspired by the birds craziness, special beauty and attributes – we feel the same about our designs.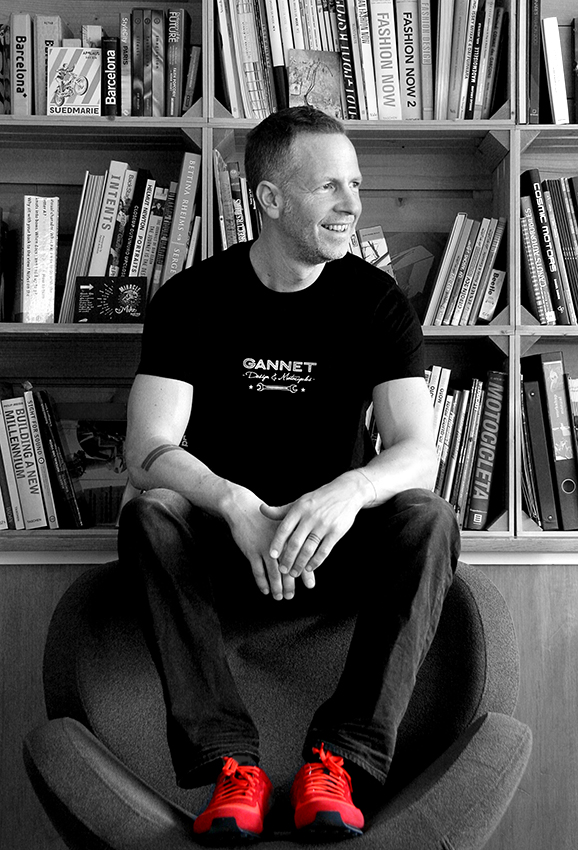 Ulfert Janssen, born and raised in Germany, is the founder and owner of GANNET Design, a design and strategic consulting company based in Switzerland.
GANNET Design's expertise ranges from car designs to motorcycle designs, both advanced concepts and production models, and he is one of the few designers who works on both two – and four wheeled vehicles.
Ulfert was born with gasoline in his blood and has special passion for bespoke motorbikes and Caferacer.

GANNET offers services in brand strategy, corporate identity, as well as product design for lifestyle products and luxury goods with clients in USA and various countries in Europe.
Prior to establishing GANNET, Ulfert Janssen was a car designer at Renault. During his 10-year tenure, he was one of the key members at the Renault's design studio in Barcelona and was involved in all major advance design, concept models and pre-production projects. He has been also sent to Renault's overseas affiliates such as Renault/Samsung Motors in Korea and Nissan Motor CO., LTD. in Japan, as an expatriate. He conducted special projects and developed production cars, including the Infiniti FX.
Ulfert Janssen holds a Bachelor of Science degree in Industrial Design from the Art Center College of Design in Pasadena, California, USA
Team /Partner:
Gannet Design's partner is Stefan Fuhrer (Fuhrer Moto), former racing mechanic of Dominique Aegerter and Tom Lüthi (now Moto2), with the latter he became the world champion in 2005 in 125cc class. Now Stefan is the "brother in crime" for the Gannet custom builds. His racing know-how, precise engineering skills and his team of artisans are the perfect partner for the Gannet shenanigans.
Ulfert´s design studio and Stefan´s workshop are just 100m apart, so it is a perfect set up for smooth and quick interaction.
GANNET Design
Studio/Atelier location:
3453 Heimisbach
Map
Contact – Ulfert Janssen:
ulfertjanssen@gmail.com